Vistula University is in the vanguard of the movement for the reform of the European research assessment system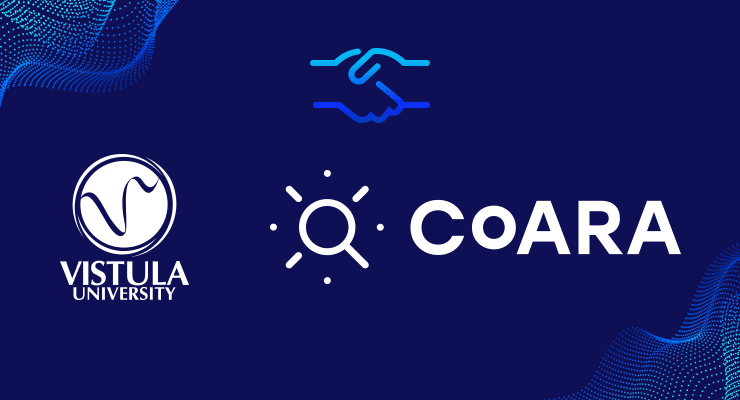 Vistula University was among the founders of the Coalition for the Advancement of Research Assement (CoARA). Earlier, university representatives signed an Agreement on Reforming Research Assessment. Membership in the Coalition enables exchange of knowledge, joint work, testing and piloting of various solutions.
The University has an impact on the direction in which the assessment rules will change, e.g., in the process of applying for grants or evaluation.
The task of the Coalition is to jointly strive to create a research system of higher quality, more influential, more efficient, and inclusive. The Coalition offers a platform for piloting and experimenting, developing new criteria, methods, and assessment tools, and for collective critical reflection, sharing good practice and mutual learning, while fully respecting the autonomy of the organisation.
The initiative aims to broaden the definition of scientific achievements so that, in addition to bibliometric indicators, other forms of scientific activity are also taken into account (e.g., data collection and sharing, software, intellectual property, educating the next generation of researchers, promotion of a scientific approach, etc.).
The agreement on the reform of research evaluation sets a common direction for change. It contains the principles, commitments, and timeframes for reforms, and defines the principles of the Coalition of Collaborating Organizations. Covenant signatories commit to a shared vision that the evaluation of research, researchers and research organizations considers a variety of outcomes, practices and activities that maximize the quality and impact of research. This requires the assessment to be based primarily on qualitative judgement, for which peer review is of key importance, supported by the responsible use of quantitative indicators.
Over 350 organizations from over 40 countries are involved in the reform process. These include public and private research funders, universities, research centres, institutes and infrastructures, associations, national and regional authorities, accreditation and evaluation agencies, scientific societies and associations of scientists and other relevant organisations. They represent a wide variety of views and perspectives.
MORE: https://coara.eu/agreement/signatories/