Advanced Mathematics for Teachers
Vistula University
Postgraduate studies (1-year)
Apply online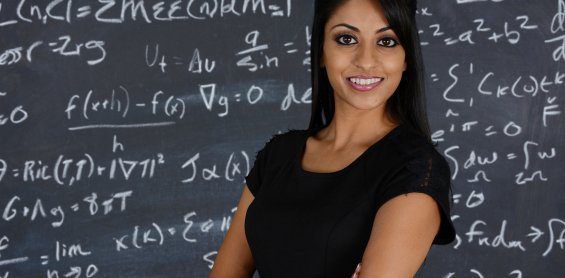 About studies
This postgraduate program is addressed to university graduates who want to undertake teaching in European countries improve their pedagogical qualifications and extend mathematical knowledge. The program is open to diploma holders who do not have enough ECTS credits. Its completion will require obtaining a credit for individual courses on the basis of attendance or an exam, project or homework. Students who complete all the courses will receive a postgraduate diploma.
The study program
Program of Study – 1st semester
| | | |
| --- | --- | --- |
| Name of the Subject | Total Contact Hours | ECTS |
| Algebra | 40 | 8 |
| Geometry | 40 | 8 |
| Mathematical Problem Solving | 40 | 8 |
| Didactics of the subject of education in Mathematics | 40 | 6 |
| | 160 | 30 |
Program of Study – 2nd semester
| | | |
| --- | --- | --- |
| Name of the Subject | Total Contact Hours | ECTS |
| Mathematical Analysis | 40 | 8 |
| Linear Algebra | 40 | 8 |
| Probabilistic Methods and Statistics | 40 | 8 |
| Classroom Management in Mathematics | 40 | 6 |
| | 160 | 30 |
Professional Training
| | | | |
| --- | --- | --- | --- |
| | | | |
| | Name of the Subject | Total Contact Hours | ECTS |
| | Professional Training | 200 | 8 |
Total: 320 h
The condition for graduation is to pass an exam in the form of a test after each semester.
Career
Diploma holders of the program may find a job as trainers, or school teachers.
Find out now how to apply for admission to postgraduate studies and join the group of Vistula University students!
Recruitment and fees
Admissions to postgraduate studies at Vistula University are on a first-come, first-served basis. Candidates for postgraduate studies should apply here.
APPLY HERE
Required Documents:
original or a copy of a diploma of graduation from the first or second degree studies,
a transcript or a University certified copy of higher education graduation diploma. Candidates graduating from foreign universities, submit the original diploma together with its Polish translation, certified by authorized institutions. In exceptional cases, English translations, certified by authorized institutions are accepted,
original identity card for verification,
1 photo in jpg format,
confirmation of advance payment.
Fees:
Application fee: 50 Euros
Tuition fee: 1200 Euros
Diploma fee: 50 Euros
Studies start in October and last for two semesters.
The tuition fee can be paid once or per semester – in two installments 2 x 600 Euro:
Account number:
AKADEMIA FINANSÓW I BIZNESU VISTULA:
Ul. Stokłosy 3, 02- 787 Warsaw/Poland
ALIOR BANK S.A.
Swift Code : ALBPPLPW
EURO IBAN: PL 58 2490 0005 0000 4600 1686 2929
* Please be advised that in case of too few applicants, the group may not start. However, in the case of a large number of candidates, the order of applications decides about admission to the group.
You frequently ask us about…
How to apply online?
In order to submit an online application, click on the APPLY ONLINE button, which is visible on our website. We also invite you to read the RECRUITMENT information, where the following steps of recruitment are explained in details.
Are there any promotions for new foreign candidates?
Where can I find the price list for studies?
I am a student, I want to pay for next semester/year.
I am a student, can I pay for my studies at the university?
Yes, you may come to the Bursar's office, and pay there: by cash or by card.
I want a refund of my money, how do I arrange that?
Where can I find the timetable?
The timetable is available in the USOSweb (University Study-Oriented System). The link to the USOSweb is available on the University's website, in the Intranet tab. Students can see their individual timetable after logging the USOS system.
Where can I find information about the exam session?
Exam session dates are given in the organisation of the academic year. Each lecturer is obliged to inform students about the date of the exam / final test.
How can I collect my student ID card?
Student ID cards for students of the 1st semester can be collected at the reception of the University, the remaining cards should be collected at the Dean's Office.
Check the full FAQ about our universities
Visit FAQ
If you have not found the answer to your question,
send it to the Recruitment Department using the form
To go to the application form, select the parameters of the studies you are interested in
The university implements projects co-financed by the European Union
Vistula University in Pultusk
Vistula School of Hospitality