List of study programme
Vistula University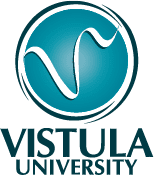 Bachelor's Degree Programme
Vistula School of Hospitality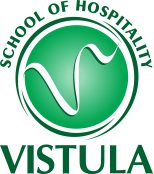 Kierunki studiów
Wybór kierunku studiów, to jedna z najważniejszych decyzji, jakie podejmują młodzi ludzie. Od tego zależy, w dużej mierze, ich rozwój i kariera. Akademia Finansów i Biznesu Vistula oferuje w
Warszawie szeroki wachlarz kierunków studiów, które wpisują się w aktualne trendy i są
odpowiedzią na oczekiwania rynku. W trakcie edukacji otrzymasz wsparcie doskonałych
profesjonalistów i rozwiniesz swój indywidualny potencjał.
Vistula prowadzi 10 różnorodnych kierunków studiów. Zostały one docenione w Rankingu Szkół
Wyższych Perspektywy 2021. Najwyższe noty zyskały Stosunki międzynarodowe, Finanse i
rachunkowość, Ekonomia oraz Filologia angielska. Wybierając jeden z kierunków studiów w Vistuli zyskasz praktyczną wiedzę, kompetencje pożądane przez pracodawców oraz umiejętności niezbędne w relacjach biznesowych i komunikacji międzykulturowej. Nauczysz się tego, czego będziesz potrzebować w przyszłości. Od tego zależy twój sukces.
Zainwestuj w swoją przyszłość – kierunki studiów zaprojektowane dla ciebie
Staramy się w Akademii Finansów i Biznesu Vistula w Warszawie być blisko młodych ludzi. Chcemy
wiedzieć, jakie kierunki studiów ich interesują, z jakimi nadziejami wkraczają w świat nauki i jakie są ich ambicje. To pozwala nam zaprojektować kierunki studiów, które odpowiadają ich aspiracjom. Możesz więc śmiało wybierać spośród blisko 40 programów. Są to studia I stopnia oraz studia II stopnia, stacjonarne i niestacjonarne, w tym również studia online, które pozwolą ci uczyć się, gdzie chcesz i kiedy chcesz, we własnym tempie. Zaplanujesz z nami idealną ścieżkę kariery. Decydując się na jeden z kierunków studiów w Vistuli w Warszawie, zdobędziesz przewagę na rynku pracy i osiągniesz sukces.
Kierunki studiów dla zaawansowanych specjalistów
Kluczem do zawodowego spełnienia jest dziś specjalizacja. Dlatego wielkim atutem jest świadectwo
ukończenia studiów podyplomowych lub programów  Executive Education . Podejmując jeden z
kierunków studiów dla specjalistów, zyskasz dodatkową szansę na udaną karierę zawodową i awans. W Akademii Finansów i Biznesu Vistula oferujemy unikatowe kierunki studiów podyplomowych, niedostępne w innych uczelniach. Dowiedz się o nich więcej i wybierz kierunków studiów najbardziej odpowiedni dla siebie. Zainwestuj w swoją przyszłość. Przekonasz się, że to się opłaca.