Vistula University as a leader of academic e-learning enters a partnership with leaders of business e-learning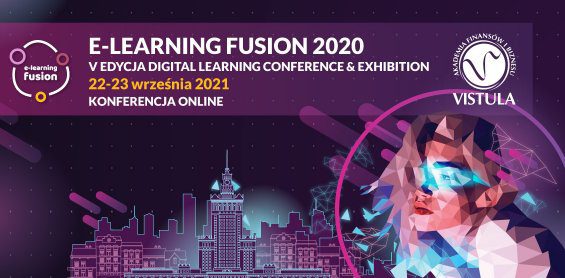 The dynamic development of technology also forces rapid changes in the field of new learning formulas in organisations. E-learning is not only a single form and a major part of e-training, but also a philosophy of employee development. The latest trends, tools, and a new approach to digital learning will, therefore, be devoted to the 5th edition of the International E-Learning Fusion Conference. Vistula University, as a recognised leader of academic e-learning, has become a partner of this important event.
The International E-Learning Fusion Conference is the only one in Poland, and the largest conference in the Central and Eastern Europe region, on digital learning and digital transformation of learning. The event, which will be held on September the 22nd-23rd, will be a unique opportunity to learn, inspire, and share knowledge and experience, in the area of trends and strategies of digital training and digital learning technologies. The conference will also give the opportunity to establish new business and social relations that will open an even wider perspective for the development of the world and e-learning technologies in Poland.
Three thematic paths have been planned during the conference.
TRAINING TECHNOLOGIES: this path will showcase new technologies and tools used in training and development processes.
STRATEGY AND CONTENT: this path will present new developments, directions of development, and the role of L&D in the world of digital transformation and learning.
PRACTICE AND EXPERIENCE: implementations of e-learning development projects from Poland and Europe will be presented in this path.
The event will bring together specialists, responsible for development and training, managers responsible for the digital transformation of learning in the organisation, designers of e-learning solutions, and everyone interested in training technologies.
One of the sessions will be conducted by Marta Kozak-Gołębiowska, Director of the Digital Education Department of Vistula University. The university is a leader in on-line teaching. It has its own e-learning platform and multimedia materials, constantly trains the academic staff, and works, intensively, on the methodology of distance learning. The number of students who choose this mode of study is growing, dynamically. Therefore, it is natural that Vistula University, as the leader of academic e-learning, enters into a partnership with the leaders of business e-learning.
Participation in the EXPO E-learning Fusion conference requires registration: https://www.elearning-fusion.pl/dla-uczestnikow/#platny
More information about the conference, speakers, and the conference programme:
https://www.elearning-fusion.pl