Vistula International Film Festival Online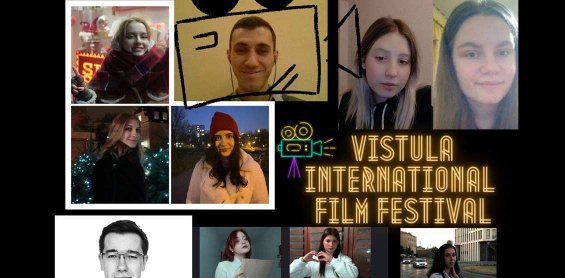 The second edition of the Vistula International Film Festival is ahead of us. This time the event will be held online. Second-year students of Journalism and Social Communication at the Vistula University who attended Marcin Antosiewicz's Television Workshop, will present their works to the public.
The short documentaries they made during the difficult time of the pandemic are about strong women, social and political change, human and animal rights, freedom of speech and the press. The films show the stories of heroes who, against all odds, try to pursue their happiness. Students worked in groups of several people and took most of the interviews and photos virtually.
The festival will take place on February 8, 2021 at 17:00 on YouTube:
The festival program:
"No way back"
Freedom for Journalists production group: Julia Serowiecka, Paulina Gipsiak, Huseyin Celik
The story is about Levent Kenezy, a Turkish journalist who was arrested for doing his job. The man tells how the situation in Turkey condemned him to flee his own country. Journalism is not a crime!
Women Wave production group: Lizaveta Rechytskaya, Karina Melchanka, Marharyta Kravtsova, Anna Stadnik
On August 9, 2020, presidential elections took place in Belarus. Millions of Belarusians and the international community, including the European Union, did not recognize the results announced by the authorities. Protests against Alexander Lukashenka have been going on for months in many Belarusian cities. In the film we will see the story of one girl, one of many whose lives have been completely changed by the current government.
"Love Wins"
Forbidden love production group: Daria Tkalyk, Yelyzaveta Matrukhan, Iryna Bachkovska, Artur Lyzohub
The film proves that love can exist regardless of gender. The story of two girls who fell in love against the prohibitions of society and began to be together. The protagonists talk about the moment when they discovered and accepted their sexual orientation, and about the problems they faced in this connection.
"Take and Run. The disturbing traditions in Kyrgyzstan"
Equality Now production group: Aike Beishekeeva, Sonu Renjith Mathew
It is a short documentary about bride kidnapping, a widely spread tradition of forced marriage in Kyrgyzstan. The main protagonist Nazgul (46) talks about her journey in experiencing bride kidnapping and the aftermath of it and talks about how is it to be a women in Kyrgyzstan.
"Woman on Fire"
Fire Team production group: Agata Wojtyś, Adam Jerzy Mróz
It is the story of a firewoman – 21-year-old Weronika. The film shows how the heroine is perceived in society as a woman in a male profession and what is associated with having such a passion. Courage, determination and passion are the perfect words for Veronica, who loves adrenaline. The film shows how you can break social barriers and stereotypes.
"Compromise"
Fight Club production group: Anna Belskaya, Mariia Ivaniuk, Taisiia Burtna
The main character of the film, Margarita, is a circus artist who practices humanitarian training. She deals with horses all her life, and from her childhood she lives in a circus stable. Her story shows that animals in the circus can have a happy life. "Where knowledge ends, violence begins," says Margarita, characterizing her profession.
"Homeless"
Observer production group: Alina Shelepets
There are people in the city who we fear, despise, or simply don't notice. People with no home, no status, no family, nothing. They are always with us. The lack of material goods does not always mean the lack of an interesting human history. The main character is a man with a difficult story, a homeless traveler who always has something to say.
We cordially invite you on Monday, February 8, 2021 at 5:00 p.m.