"This is a special time when new opportunities open up for all of us"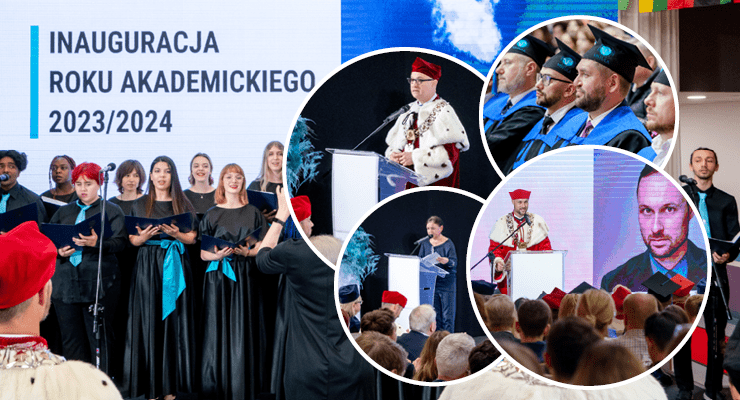 The inauguration ceremony of the New Academic Year 2023/2024 at Vistula University took place at a special time, shortly after the parliamentary elections. As the mayor of Warsaw, Rafał Trzaskowski, emphasized in a letter to the academic community, new opportunities are opening up for all of us.
The inauguration of the New Academic Year 2023/2024 was a great celebration for the entire academic community of Vistula University. Distinguished guests, lecturers and students attended the ceremony. There was a Colour Guard with our University Flags. The Polish anthem and the student song Gaudeamus Igitur were performed by the Vistula Choir. Traditionally, the event included the ceremonial Act of Matriculation and the awarding of doctoral diplomas.
There are 11,000 of us
– Our university is a micro-cosmos – multicultural, colorful, and diverse in terms of origin, religion, views and hopes – said in his speech Professor Wawrzyniec Konarski, PhD, Rector of Vistula University. – There are almost 11,000 of us here – students and University staff. This is an excellent result – he emphasized and pointed out that in order to make our coexistence lasting and consolidate our academic community in the spirit of mutual respect, a framework is needed to define this space of cooperation. On a micro scale, it is created by the university, but on a macro scale – the Polish state based on socially accepted law. – Due to the results of the parliamentary elections, we now have such a chance– emphasized Professor Konarski and wished everyone to find their way in the new public space.
Meetings that change the world
Professor Krzysztof Celuch, PhD, Rector of the Vistula School of Hospitality, whose interests focus on the meetings industry, appealed to students not to give up on their dreams. – Our university has been helping people meet for over 20 years – he said. – It is through meetings that wars are won, and politics is practiced. It is during meetings that we develop, celebrate, and build our own bonds. We educate for the future, and we strongly believe that artificial intelligence helps in our industry and is not a tool that will replace us. Professor Celuch appealed to students to meet not only in the virtual world and encouraged them to keep asking questions.
Bartłomiej Szmajdziński – HR Director at AccorInvest EE, who is a member of the Social and Economic Council of the Vistula School of Hospitality, also spoke about the meetings industry and broadly understood hospitality in his speech. He emphasized that tourism and hospitality are an extremely important industry, because without it there is no business.
Vistula Universities occupy an important place on the map of Warsaw
Tomasz Bratek, deputy president of Warsaw, was also a guest at the ceremony.
He conveyed warm greetings and wishes from President Rafał Trzaskowski. He also read his letter to the academic community.
The President noted that Vistula Universities occupy an important place on the map of Warsaw, a city that connects people, gives energy, freedom of action and thinking, thanks to which new ideas are born. He wished all students and academics fruitful cooperation, interesting discoveries and unforgettable moments spent within the walls of the university. – For me, as the president of Warsaw, it is extremely important to support an atmosphere of intellectual enthusiasm. In the era of dynamic technological changes, universities should be knowledge centers and knowledge transfer hubs, which is so necessary to change the world – wrote Rafał Trzaskowski.
President also wrote that it was with great sadness that he received the news of the death of Professor Aleksander Ronikier, the long-time Rector of the Vistula School of Hospitality. – His contribution to the development of Polish science and Vistula University cannot be overestimated, and his legacy will be an inspiration to everyone, he emphasized.
The most important thing is the spark
The inaugural lecture Planetwalker – a different economy of one's own life and culture was given by Joanna Kos-Krauze, director, screenwriter, co-author of many award-winning films. During her speech, she encouraged students to learn about the life of John Francis, the famous environmental activist known as Planetwalker. She argued that spark is important in a person's life. – You are oxygen for future generations. Take care of this spark, cooperate with others, listen, and go your own way – appealed Joanna Kos-Krauze.