P&G Days at Vistula University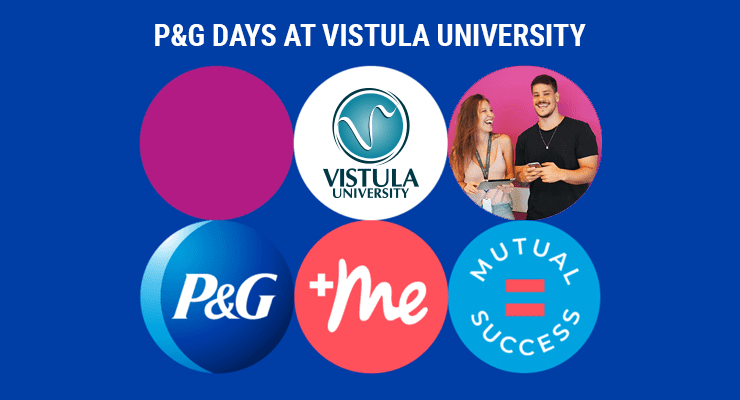 Vistula University has established cooperation with a new, strong partner. It is Procter & Gamble – one of the largest companies in the world, whose value is estimated at USD 326 billion. Its brands reach over 4 billion consumers worldwide.
We are going to host P&G experts on our campus soon. During cyclically held meetings organised as part P&G Days at Vistula University, you will meet interesting people and gain unique knowledge.
P&G is known as a hotbed of talent and business leaders. It creates a dynamic, international, and diverse work environment. Each year, it is joined by several dozen interns who have an opportunity to prove themselves in a real business environment and receive a permanent job offer after graduation. Fluent English, analytical thinking, and leadership skills as well as ability to adapt to change are required.
P&G Days program at Vistula University
February 28th at 2:40 p.m. till 4:40 p.m., Aula 4 – presentation "P&G Europe: Supply Network Hub & Global Business Solution Hubs in Warsaw" (history, business model, roles & career opportunities, benefits)
March 7th at 10:10 a.m. till 12:00 a.m., Aula 4 – interactive worshop/presentation "How to prepare for an interview"
March 8th at 2:00 p.m. till 4:00 p.m., Aula 4 – interactive presentation "Product Management"
March 14th at 2:00 p.m. till 4:30 p.m. – Coffee with P&Gers, SNH office tour
We cordially invite students of the last years of studies. Don't miss this unique opportunity!