NAWA will finance Polish language courses at Vistula University, as part of the "Solidarity with Ukraine" programme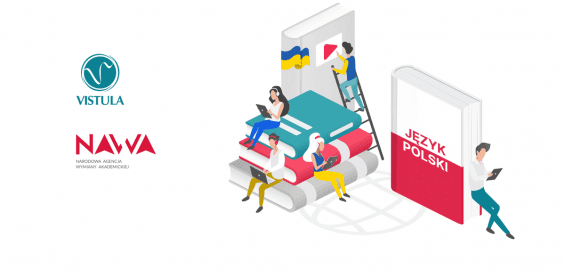 The National Agency for Academic Exchange, NAWA, has granted funds to Vistula University, to finance Polish language courses under the "Solidarity with Ukraine" programme. The courses are addressed to Ukrainian citizens who were students of Ukrainian universities in the 2021/2022 academic year, and who came to Poland, not earlier than on February the 24th, 2022.
Registration for free Polish language courses, conducted by Vistula University for Ukrainian refugees, has already ended. The groups have been completed. Persons admitted should receive appropriate information by e-mail.
Classes will last until September the 30th, with 45 people taking part in them. The aim of the education is to acquire knowledge of the Polish language, at the B1 or B2 level, depending on the initial entry level. During the courses, all participants will additionally receive a NAWA scholarship, to the amount of PLN 1,500 per month.
Thus, Vistula University has become a part of a great project initiated by the National Agency for Academic Exchange, NAWA, "Solidarity with Ukraine". Its aim is to enable Ukrainian students as well as PhD students, who appeared in Poland as war refugees after February the 24th, to continue their education, prepare a PhD dissertation, or undergo language or preparatory courses.
The interest in participating in the programme, for which over PLN 23 million was allocated, was enormous. 98 institutions applied for accession.
These are the next Polish language courses for Ukrainian refugees, to be run by Vistula University. On-line lessons for adults and teens, launched in March, were also very popular.
In June, another group of 100 refugees – citizens of Ukraine, who were students at Ukrainian universities before the war, will be able to start learning Polish at the Vistula University.
https://nawa.gov.pl/nawa/aktualnosci/w-poczuciu- solidarnosci