International Relations – Online Studies. A new field of online studies at Vistula University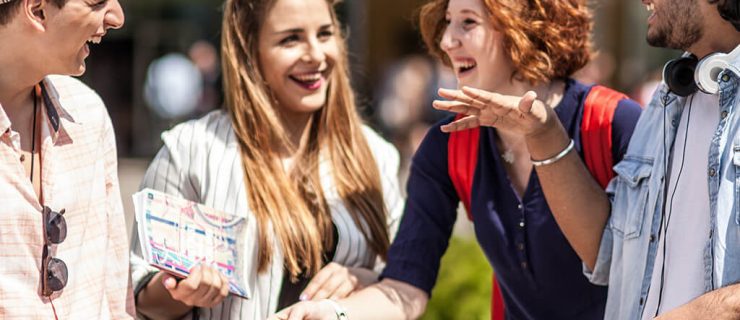 At Vistula University, you can study International Relations online. In response to the market needs, the University has launched online Bachelor's and Master's degree programs.
Vistula University took a step towards meeting the expectations of the market and launched another field of online studies. You can now study International Relations at Bachelor's and Master's degree levels online. The number of students who choose to study online at Vistula is increasing every year.
Online international relations – unique studies on the national scale
International Relations – online studies have been designed for people who are interested in international politics and the world economy, and who work intensively, take care of children, or live abroad. You will do 50 percent of classes online, 50 percent – at the University. The studies are conducted in Polish.
The program is unique in the country. It comprises various fields of science, including political science, law, national security, and economics. It is based not only on academic knowledge, but also on the experience of practitioners. Our faculty include former diplomats and ministers involved, among others, in the process of Poland's accession to NATO and the European Union.
Studies perfectly tailored for uniformed services and public administration employees
The studies provide students with extensive knowledge in the field of international politics and diplomacy, contemporary military conflicts and international economic relations as well as intercultural communication. Students learn how to gather and select information, as well as how to analyze and interpret phenomena taking place in the international political and economic environment.
The teaching process involves a strong emphasis on issues related to security, crises and the growing role of the digital media making this field particularly attractive for employees of uniformed services and public administration.
The program of the online studies in the field of International Relations offers selected specialties.
Bachelor's degree program:
International communication;
National and international security;
Crisis management in an international environment.
Master's degree program
International business relations;
International security, migration and terrorism;
Transatlantic Studies.
Advantages of online studies at Vistula University

Online studies are becoming a global trend and they are run by an increasing number of universities. Vistula University is a Polish leader in this area. The University offers:
high quality of education – prestigious accreditations and awards;
staff of distinguished authorities and practitioners;
close cooperation with business and international organizations.
Apart from International Relations – first and second degree online studies, the University offers the following fields of study that can be taken online:
Finance and Accounting – Bachelor's degree online program;
Finance and Accounting – Master's degree online program;
Management – Bachelor's degree online program;
Management – Master's degree online program;
Economics – Bachelor's degree online program.
Online studies are flexible and very convenient, you can study where and when you want, at your own pace, organizing your time yourself. There is no weekly schedule. Students can decide when they want to listen to the lecture or read the provided materials. All materials are archived and can be accessed recurrently. Only university assemblies at the beginning and end of the semester during weekend sessions have a fixed time schedule.
Online studies are just like any other studies, except for the form of delivering knowledge. Students obtain a traditional diploma.