We are hosting the event of the year in the meetings industry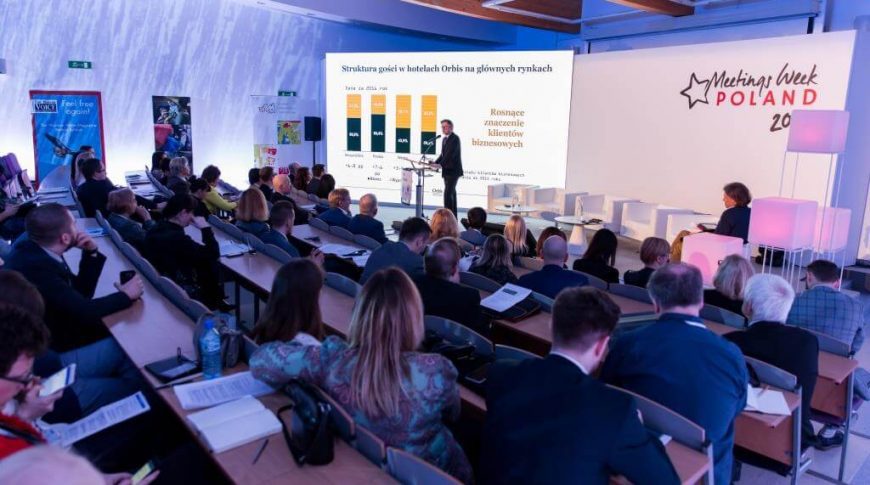 1,500 business representatives, local government officials, politicians, students and journalists will take part in organized at the Warsaw School of Tourism and Hospitality Management from the Vistula Group of Universities Meetings Week Poland 2018. This is the sixth edition of this largest and most important event in the meetings industry in Poland. We are inot only its host, but also one of the co-organizers.
Participants of Meetings Week Poland 2018 for 5 days will use the campus of the Vistula Group of Universities Group, which has not only educational and scientific facilities, but also a modern conference center. It has 7 aulas with over 2,200 seats and 46 seminar rooms – including a VIP room. In addition, the campus has catering facilities and a sports and entertainment hall.
The event is also involves students of the Vistula Group of Universities, especially the Student Scientific Business Tourism Club "2B", who independently prepare one of the conferences – XIII IMEX-MPI-MCI Future Leaders Forum. Students will also be volunteers during all five days of the Meetings Week. They also organize during it, the CSR campaign, which will consist in the registration of bone marrow donors for DKMS.
This year's Meetings Week is held under the slogan "Power of Networking" on March 19-23 at the campus of the Vistula Group of Universities at Stokłosy 3 Street in Warsaw.
Details: https://meetingsweek.pl/