4th Vistula International Film Festival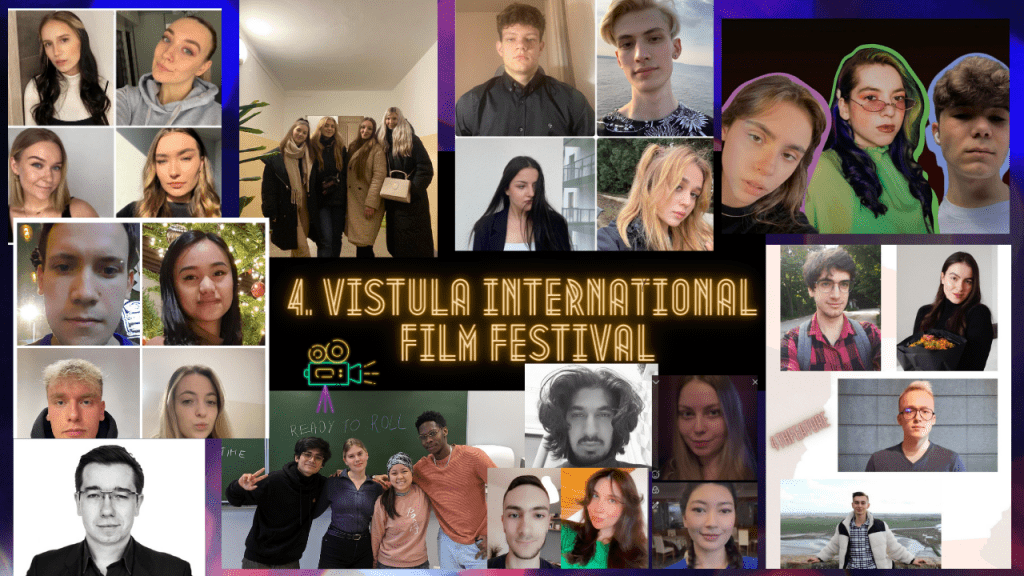 The fourth edition of the Vistula International Film Festival is ahead of us. The event will be held online. Students of Journalism and Social Communication at the Vistula University who attended Marcin Antosiewicz's Television Workshop, will present their works to the public.
The festival will take place on Monday, January 23rd, 2023 at 2:00 p.m. on YouTube:
The festival program includes:
"Life of students abroad"
Moving to another country is always difficult. People face a lot of difficulties. Ranging from feelings of loneliness ending with problems of housing. This is very difficult, including for students who move to a completely unfamiliar country. The first month is always the hardest, as students learn to re-use public transport, explore the area and look for an apartment. This is what our film is about. And specifically about a student from Kyrgyzstan, Adil, who went through all this. He went through all the difficulties that he told about in our film. And now he has his own company, which helps students not to go through this difficult path alone.
Production group Twix: Alina Maratova, Marta Charnenak
"Life on the line"
A first-hand story about how the main character was forced to leave her home. Along the way, the heroine talks about the trials on the way to Poland and how her family and she herself felt during that terrible period.
Production group: Sofiya Rusovich, Yaroslav Timchenko
"Leaving Ukraine"
The documentary is about David Chaava, one of the million of Ukrainians, who had to leave his native city fleeing the war. Due to the fact that his dad has a disability caused by diabetes, David could bring his family to Germany, and then settle down in Warsaw, trying to start a new life with such terrific experience. The reality of civil life during the war, feeling of guilt for leaving your country and fellow citizens and other pros and cons of moving on are highlighted in the movie.
Production group ALC: Anastasiia Prochukhanova, Laura Montoya, Cristiana Leal
"Tina Karol"
Tina Karol (26) is an Iranian woman who was born in the city of Tehran. She grew up under the influence of the Islamic Republic of Iran. The Islamic Republic government is known to be very strict when it comes to culture. On her first year of college, she had an encounter with the morality police for not wearing the hijab probably. Tina currently lives in Warsaw & she's known for protesting against the Iranian government. She goes on to tell her story & experience with us.
Production group N.K.R.S.: Nonhlanhla Motloung, sitra Towfic Mohammed, Karabaliyev Raimbek
"Struggle of the Last Generation"
Three years of pent-up anger finally erupted over a fire that claimed ten lives.
A4 Revolution spread nationwide in China and even across the world, pointing at the Chinese government. Some protestors claimed, "it's our duty", some said they are the last generation as Chinese. A seed has been planted, but how long will it take to the blooming day? Daniel is the organizer of rally in solidarity with A4 Revolution in Warsaw. As a Chinese living "outside the wall", he is trying to do something more to support those who dare to speak up in China, and he believes the protests were just the beginning.
Production group Ready To Roll: Arina Chernukha, Aryan Jha, Hoi Tung Fung, John Wakulira Wadenya
We cordially invite you on Monday, January 23rd, 2023 at 2:00 p.m.