Vistula University students of journalism train with the best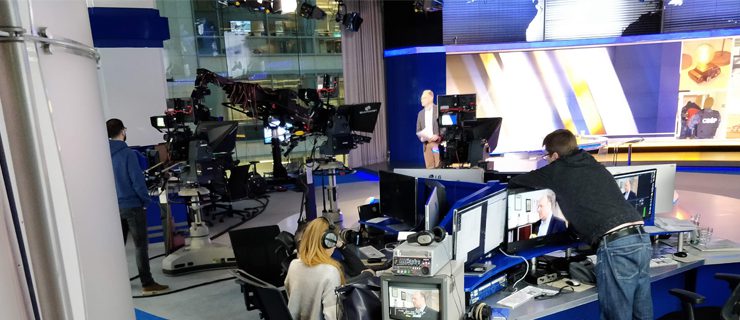 Journalism and social communication studies are constantly popular: it's no wonder. Interesting and valuable journalism is always desirable. The fourth power is an important player, and a free media plays a fundamental role in our social lives.
There are new communication tools and channels, as well as new models of journalism. Media companies need professionals who can create real, engaging content. Not 'fake news'.
Vistula University educates such professionals. Second year students of Journalism and Social Communication recently enjoyed a workshop from a TVN television journalist. They saw a studio with a green box, from which "Szklo kontaktowe"and 'Kropka nad i' programmes are broadcast; the TVN24 BiS and TVN24 studios, newsrooms and control room, as well as the impressive studio of the leading news programme in Poland – Fakty TVN.
– "What made the biggest impression on me were both the control room and the newsroom" , declared Ania Runo.- "It was very interesting to see how powerful it all is" – she added.
Agnieszka Matejak, the editor, and Mateusz Walczak – the anchor in TVN24 BiS, talked about television, the journalist profession, work, and their experiences. They answered questions about how to get a job on TV, and how to succeed.
– "The atmosphere that prevailed at TVN's headquarters was the most fascinating for me", reported Yelizaveta Sidoruk. "Before, it seemed to me that working on television was a constant noise, stress, a mass of lights, and crowds of people. It turned out, however, that in reality, there is silence, peace, and everyone has the opportunity to concentrate and focus on their work" – she reflected. .
It was an excellent practical lesson in television journalism. Thank you very much TVN24 Bis for your hospitality.