Vistula Universities in solidarity with the victims of the earthquake in Turkey and Syria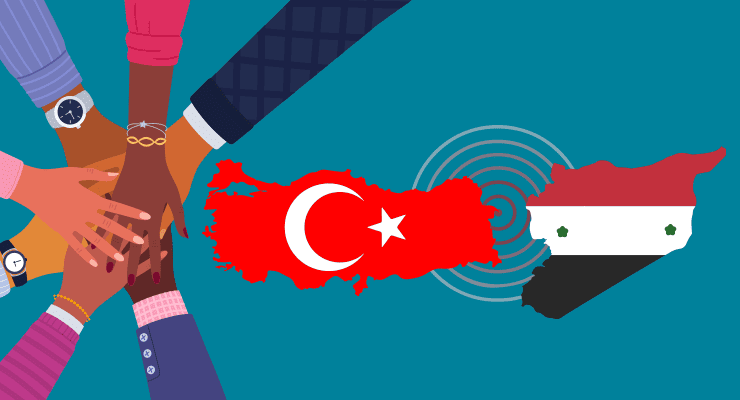 The academic community of Vistula Universities is shocked by the dimensions of the tragedy after the earthquake that hit Turkey and Syria. The death toll is growing. Many people are still trapped under the rubble of collapsed buildings.
We express our solidarity with all those who suffered as a result of this disaster. We are in contact with Turkish students from the affected areas. These are extremely difficult times for them. We are with them and support them wholeheartedly.
Due to the unfolding drama, we appeal to students and employees of Vistula Universities to join the material collection of aid for the victims, which is organized by the Turkish Ambassador in Poland.
The collection will take place on February 8 – 10, 2023, from 9:00 a.m. to 6:00 p.m. in the main building of Vistula University.
Unused winter clothing for adults and children is urgently needed:
jackets,
raincoats,
shoes, wellingtons,
sweaters,
pants,
gloves, scarves, hats,
underwear, socks.
Other urgent needs:
flashlights,
powerbanks,
blankets,
thermoses,
sanitary napkins,
cleaning and hygiene products,
diapers
moisturizing wipes.
Do not bring food or beverages.
You can also make a donation to the account of our University to support the victims of the earthquake:
AKADEMIA FINANSÓW I BIZNESU VISTULA
ul. Stokłosy 3
02-787
Warsaw/Poland
ALIOR BANK S.A.
Swift Code: ALBPPLPW
EURO
IBAN: PL 98 2490 0005 0000 4600 8605 6092
PLN
43 2490 0005 0000 4600 2097 0179
Donations can also be made to the following organizations:
AFAD: Disaster and Emergency management Presidency: afad.gov.tr/depremkampanyasi2 (donate in TRY. EUR and USD)
AKUT: Voluntary Search, Assist and Rescue Organization: akut.org.tr/en/donation (donate in TRY. EUR and USD)
AHBAP: Voluntary Networks, active in the affected regions: bagis.ahbap.org (donate in TRY. EUR and USD)
Thank you very much for your support.