Students of the Vistula Group of Universities have won international MPI scholarships!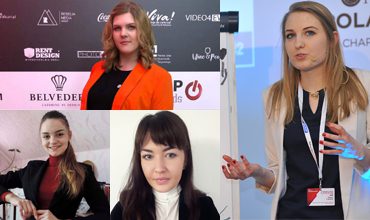 Magda Klimczyk, Tatiana Kalyniak, Paulina Kuźma, and Natalia Haichuk – students of the "event management" specialisation at the Warsaw School of Tourism and Hospitality Management, and members of the 2B Students' Scientific Club, have been recognised by the MPI Foundation.
They won international scholarships, and will go to the Hague in February, for the prestigious European Meetings and Events Conference. It will be a unique experience, an opportunity to meet professionals from the meetings industry from all over Europe, who will talk among other things, about the business value of meetings and the future of the industry. The programme includes the following topics:
technology and virtual meetings;
meeting design;
international meetings and risk management;
relationships with suppliers / planners;
corporate social responsibility;
management of strategic meetings;
innovation;
leadership;
marketing / branding;
organisational intelligence;
sales tactics.
MPI is an international organisation working for the development of the meetings industry in the world. It provides its members with support in professional development, enables access to business contacts, provides knowledge, and opens up professional opportunities.
"I am glad that, once again, the students of the "event management" specialties will take part in one of the most important conferences in the meetings industry in Europe" – commented Krzysztof Celuch, Ph.D., Rector's Representative at the Warsaw School of Tourism and Hospitality Management, and the Chairman of SKN 2B. – "For 13 years, we have been co-operating as the Vistula University Group with MPI, and I hope that we will be able to encourage young students to stay in the world of meetings".