New opportunities for Vistula Universities' students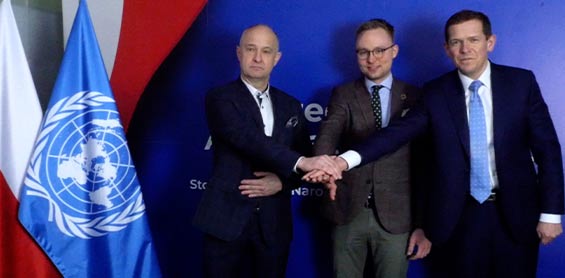 Vistula's Universities have officially concluded a co-operation agreement with UNAP – the United Nations Association in Poland. The agreement on this matter was signed by Bartłomiej E. Nowak, PhD, President of the Vistula Group of Universities, Professor Wawrzyniec Konarski, Rector of Vistula University, and Adam Dziedzic, President of the UNA in Poland. The organisation already has an office on our campus. It implements projects, which support and disseminate knowledge about the United Nations, and the role Poland plays in it. It runs programmes in the field of sustainable development, human rights, active citizenship, education, and democracy.
As emphasised by Adam Dziedzic, co-operation with UNAP is an opportunity for Vistula's students to gain new skills. It will open up chances for them to participate in initiatives, closely related to the activities of the United Nations in Poland. It will also allow them to join the Association, with the right of a 50 percent discount on the membership fee.
The President of the Vistula Group of Universities, Bartłomiej E. Nowak, PhD, was recently appointed as the chairman of the UNAP Programme Council. "We want to help young people change the world", he declared; adding that: "we want to be a university of global opportunities, educating a generation of future leaders." –
Commenting on the signing of the contract, the Rector of AFiB Vistula, Professor Wawrzyniec Konarski, pointed out that the polycentric world creates more and more challenges, and that global organisations, such as the United Nations, have increasingly difficult tasks to perform. So, it is very important that they can find allies on this matter. "The academic world is such an ally", he asserted. – He went on to emphasise that: "our university is a very ambitious, very international institute, which also cares enough for our students to be able to develop their competencies in a meaningful and creative way. The conclusion of this agreement will serve this purpose."