Guests from Indonesia at Vistula. New challenges are on the horizon.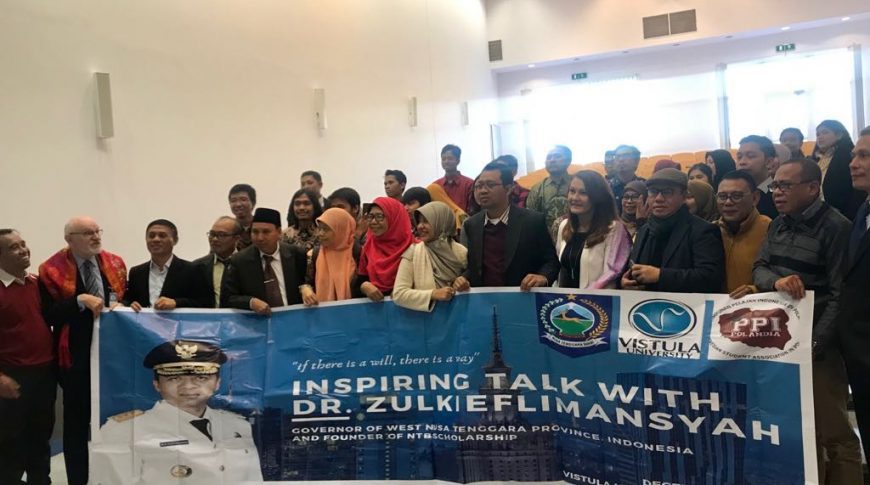 Special guests will come to Vistula on December the 5th. The Governor of the Indonesian province of West Nusa Tenggara, Dr. H. Zulkieflimansyah, will visit our university. He will be accompanied by the rectors of several local universities, and by a group of journalists. The Governor is coming to Poland for the climate summit in Katowice – 'COP24'. However, he made time to meet with both the Vistula authorities and Indonesian students.
"Dr. Zul", as he's widely known in West Nusa Tenggara, is an extremely popular figure in the region. He earned his Master's degree and Doctorate at Strathclyde University in Glasgow, pursuing an active investment policy in the human capital of the Scottish Isles, which was based on a scholarship programme for young people.
His visit to Vistula is a direct consequence of the November trip by our university delegation to Indonesia. For the third time, the Vistula University Group took part in the annual European Higher Education Fair (EHEF) there, and Chancellor Zdzisław Rapacki met Dr. H. Zulkieflimansyahem. He presented him with an invitation to our university, and this was very warmly received.
This is an interesting offer for Indonesians. They can study in English, in different modes, also online. The tutoring system will help them develop creativity and independent thinking. The knowledge that they will gain from outstanding experts and practitioners will perfectly prepare them for a professional career. Thanks to the Erasmus program, they have the chance to study, even just for a year abroad. We offer scholarships for outstanding achievements. 50 Indonesians are already studying at our university. We invite others to come. There are interesting prospects for co-operation ahead of us.
Indonesia is a country with almost 260 million people, and half of them are under 25 years old. This is a very promising partner – the world's 16th economy, one of the key Asian tigers, with a 4.3 percent GDP growth. The country is struggling with various problems, but its potential is huge. It is often referred to as the educational market of the future. Young people speak English fluently, and want to study in Europe. The costs of studies and life abroad are important for them – they don't want to spend a lot.
On the other hand, the Indonesian authorities want to improve the quality of the academic staff. A system of government scholarships, therefore, is in operation. The beneficiaries go mainly to Australia, Malaysia, Japan, the Netherlands, and Germany. However, we also have the chance to participate in this extremely attractive programme.