Get a double degree diploma in management of Vistula University and London South Bank University (LSBU)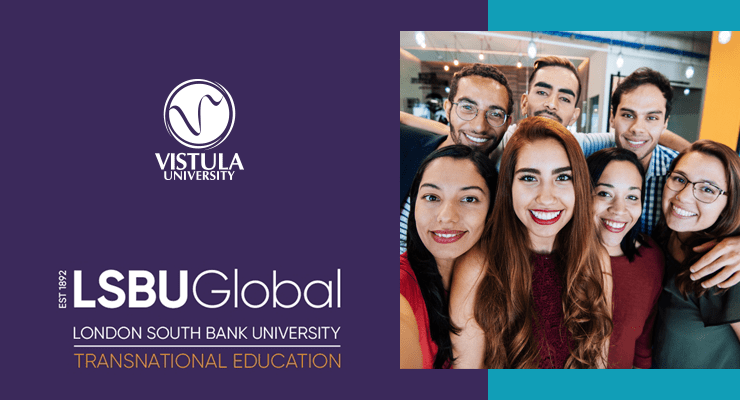 Did you know that while studying management at Vistula University, you can also obtain a diploma from London South Bank University (LSBU)? The study program implemented at Vistula is authorised by the London university in terms of maintaining the same standard and quality of education.
A double degree will give you confidence, unique experience, and an advantage in the job market. You will get important benefits:
LSBU is a globally recognised university – it is in the top 100 of the best universities in the world in the category of global employment in the ranking of the prestigious British newspaper The Guardian;
London is a global financial centre – a double degree diploma in management accounting (accredited by CIMA) will open up for you career opportunities in high-paying positions;
the double diploma of Vistula and LSBU is the flagship program of our University; its participants have access to information and extra-curricular activities, which is one of the basic requirements of American universities if you want to pursue a Master's or PhD degree in the USA.
The program is addressed to Bachelor's Degree and Master's Degree students.
LSBU is a vibrant, international university with great ambitions. It is one of the five largest universities in London. Currently, it educates 18, 000 students from over 130 countries. The university was founded in 1892 as the Borough Polytechnic Institute. It gained the status of a university in 1992.
Many of the education programmes, offered by the London South Bank University, are practical and accredited by professional bodies. The university is a laureate of the Times Higher Education Awards, for supporting students' entrepreneurship.
Join this unique program and win out!