Business & Education – CBRE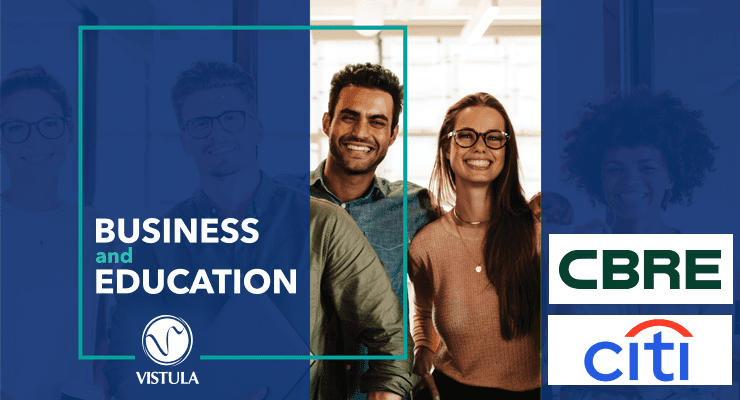 At Vistula University, we are extremely proud of our "Business & Education" program which provides an effective platform for cooperation with renowned companies. Its goal is to enrich the educational experience of our students. As part of the program, on November the 6th, VU organized workshops with experts from CBRE, the world's largest consulting company in the commercial real estate industry.
It was an extremely inspiring event. Our students gained comprehensive knowledge of the three strategic pillars of CBRE – Data and Insight, Integration Solutions and Strategic Partnership. These pillars lay the foundation for the company's mission, which is to provide customers with the highest quality services. CBRE's approach to business assumes future-oriented approach and strong commitment to innovation. Thanks to this, CBRE constantly maintains a leading position in the industry.
Another key element of CBRE's activities is the "RISE" concept, which refers to its core values of respect, integrity, service, and excellence. These values reflect the company's unwavering commitment to maintaining the highest standards in its industry and commitment that is reflected in every aspect of work.
The workshops organized by CBRE turned out to be an invaluable educational experience for our students. They pointed out that CBRE is not only a real estate company, but also a catalyst for change and innovation in this sector.
We would like to thank Patryk Pucha, Anna Paszke and Magdalena Nowak for their presentations, which were highly appreciated by our students.
In the next meeting, on November the 13th, we are going to host the CITI, one of the leading commercial banks.