Business & Education – take part in classes conducted by representatives of business giants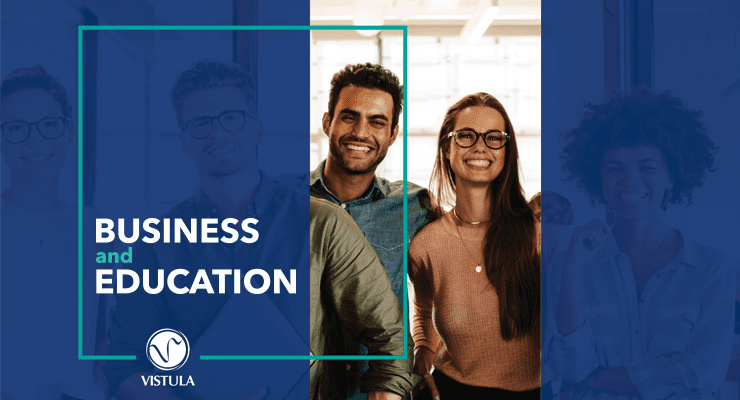 Want to discover the secrets of success of the world's largest companies? Take part in the Business & Education program. This is a series of very interesting classes that will be conducted at Vistula University by representatives of real giants, including: P&G, CITI, J.P. Morgan, or Schneider Electric.
Business & Education is a unique program that integrates academic knowledge with practical work experience, allowing students to gain valuable insights into their chosen field of study.
Its aim is to provide Vistula University students with the opportunity to establish valuable contacts with representatives of the world's largest companies and gain practical knowledge.
The Business & Education program consists of weekly meetings that will bring you only benefits:
you will learn the organizational culture of global business giants;
you will understand the relationship between theory and practice;
you will develop competences in a selected field;
you will learn effective communication, teamwork, critical thinking and problem solving skills;
you will gain experience;
you will develop a network of contacts;
you will gain valuable preparation for your future career.
The program is addressed to all students. Classes will be held in English every Monday from 12:00 a.m. to 2:00 p.m. in Aula 4.
9/10. – P&G – Procter & Gamble's Supply Network: Limitless career possibilities in one company
16.10. – J.P.Morgan – Teamwork and Leadership in JP Morgan based on Desert Survival exercise
23/10. – Schneider Electric – Make a world a greener place! – sustainability development workshop
30/10. – Oliver Wyman – Building an authentic personal brand within the business environment
6/11. – CBRE – Capital Markets
13/11. – CITI – Wonders of Anti-Money Laundering world
20/11. – Intego Group – Statistical Data Analysis in Clinical Trials
27/11. – Schneider Electric – Exploring the World of Finance: A Glimpse into Schneider Electric's Perspective
4/12. – J.P.Morgan – Corporate & Investment Bank – Finance – Contollers – Product Control
11/12. – Tutlo – Business English
18/12. – Egzamin końcowy – Final Exam
Seize the opportunity! Enter the world of big business!
We cordially invite you!