A great success of Vistula University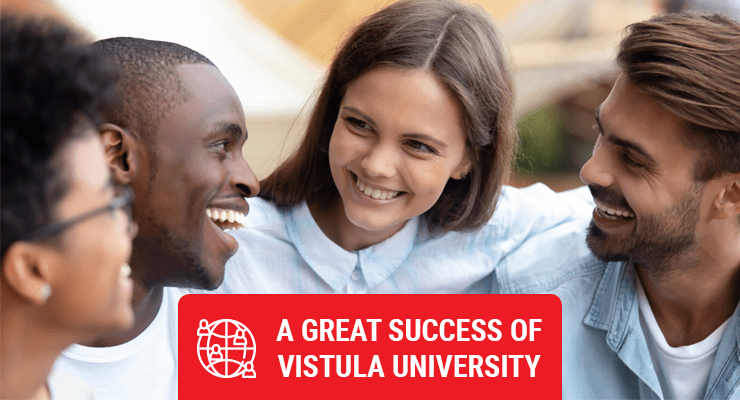 Every fifth foreign student in Warsaw studies at Vistula University, according to the report prepared as part of the Study in Poland project implemented by the Conference of Rectors of Academic Schools in Poland and the "Perspektywy" Educational Foundation. In total, 4,900 young people from all over the world study at our University – the largest number in Poland. The second place is occupied by the state-run Jagiellonian University hosting 3,200 foreign students. This is a great success of Vistula University. Our offer attracts students from over 100 countries around the world.
Vistula University has been the leader in internationalization for years. It is a response to the needs of students and one of the important conditions for the development of the University.
The school offers a wide range of studies in English, also online, although some foreign students choose to study in Polish. For candidates from countries closer to us, such as Ukraine or Belarus, we organize Polish language courses. In this way, we promote the Polish language and Polish science. – Internationalization is a flagship element of our image, which we have been taking care of for years – says Wawrzyniec Konarski, PhD, Professor and Rector of Vistula University. – Our students are at the same time ambassadors of their countries and ambassadors of our University, also after graduation. This is how we build Vistula's reputation in the students' countries of origin.
Our University educates young people from over 100 countries. Most of the students are Ukrainians and Belarusians, but there are also citizens from e.g., Uzbekistan, Kazakhstan, Azerbaijan and India, Ethiopia, Nigeria, Zimbabwe and Morocco.
The international atmosphere, diversity and multiculturalism are the great potential of Vistula. We live in a global village today. Friendship, cooperation, solidarity, mutual help – this is what the modern world needs. – We learn mutual openness to the cultural profile represented – at every level – by the members of our community. This strengthens our mutual relations – emphasizes Professor Konarski.
Foreign students bring their energy not only to the University. The local community and the whole of Warsaw draw from their diverse skills and qualifications.