Christmas customs from around the world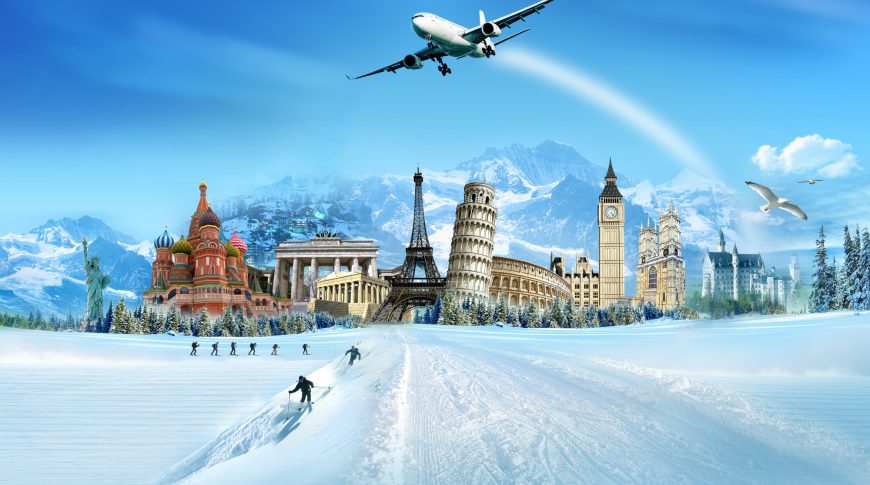 Differen countries, different habits… nevertheless, wherever you go, Christmas is always a time of magic, family reunions and cordialily. Thanks to the fact that our students come from over 80 different countries of the world, they can share Christmas traditions and customs, thus discovering the diversity of their cultures.
Christmas in Nigeria
Student of the Vistula Group of Universities
"I am from Nigeria where we celebrate Christmas together. We all get together and cook, eat, dance and just have fun".
Nigerians love to have fun, therefore they spend the evenings before Christmas at club parties, which, however, they orderly leave at 10 or 11 p.m. and then go to a nearby church for the mass service. The exception is the Christmas day, when the faithful come to church at 2:00 a.m. and celebrate until morning. Christmas is a great time for the people of West Africa to put on their best clothes. Christians in Nigeria eat mashed sweet potatoes or cassava noodles on Christmas Eve, and in some homes a dish called "moin-moin" is also served. It consists of black beans with vegetable oil, chopped liver or chicken, shrimp and fish. The festive atmosphere is accompanied by harmattan – an unpleasant, dry wind that brings the dust from the desert.
Christmas in Ukraine
Student of the Vistula Group of Universities
"In Ukraine, we all gather with the family, at the dining table. We usually cook 12 dishes together, eat them and then give each other gifts."
Christmas Eve in Ukraine falls on January 6 and is celebrated just like in Poland. We always put hay under the table cloth on Christmas Eve and, in addition, place garlic heads on the four corners of the table to ward off evil spirits. Instead of regular Christmas decorations, what you find on the Ukrainian table on this day are … decorated eggs. On the table there should be, among others, 12 dishes, including cabbage rolls with buckwheat and potatoes, mushroom sauce, fish, dried fruit compote, borscht. The most important dish, however, is kutia. For dessert we serve cake and donuts. Children get their gifts from Ded Moroz on the New Year's Eve.
Christmas in Turkey
Student of the Vistula Group of Universities
"I don't celebrate Christmas. During this time in Turkey we only decorate shops and buy Christmas trees. This is because the majority are Muslims".
As Turkey is a Muslim country, Christmas is not celebrated there, but nevertheless, thanks to Western fashion, Christmas customs are becoming more and more popular there. On the streets of Turkish cities, you can see lamps, decorated Christmas trees, and Santa Clauses stroll through shopping malls giving children small gifts. In many cities, Christmas markets are organized, with stands held by, among others, Germans, Russians, Scandinavians and, of course, Poles. In Turkey, Santa is said to be Noel Baba, which literally means Christmas Dad who gives gifts to children on the New Year's Day. In Turkey, carols are not sung, but instead you can see… belly dancing.
Christmas in Moldova
Student of the Vistula Group of Universities
"I am from the Republic of Moldova. In my country, we usually celebrate Christmas on the weekends. The whole families gather together. We cook a lot of food and we watch TV".
Moldova is an Orthodox country and Christmas is celebrated here both in December and January. Fasting dishes are served on the Christmas table, including broad beans, cabbage rolls, cakes, dried prunes, and the so-called "crăciunei", which are considered symbols of renewal and rebirth. No one can try the dishes before they are blessed by the priest. Moldavians also decorate a Christmas tree under which they put up small nativity scenes and where Moş Crăciun – the equivalent of Santa Claus, leaves gifts on Christmas Eve.
Christmas in India
Student of the Vistula Group of Universities
"I came from India and yes, we also celebrate Christmas there. In December, at the beginning of December, everyone goes to churches and decorates their houses".
Although Christians make up only 3% of the population in India, Christmas is celebrated there with as much pomp as in the West. Christians and friends from other religions meet for the Christmas Eve dinner, where typical Indian dishes reign, consisting of fish, cheese dishes, vegetables and rice. Instead of the Christmas tree, they decorate mango or banana trees.
You can meet Santa Claus in a traditional red jacket in the street. In large cities such as New Delhi, Mumbai or Bengalore, department stores displays are decorated with Christmas motives and you can hear American Christmas songs… for example, the well-known "Last Christmas".
SANTA CLAUS IN THE WORLD
Netherlands – Sinterklaas
Every last Saturday in November, he arrives in the city by ship, and then parades around the city on a white horse, visiting, among others, the princely couple. He asks everyone if they have been polite that year.
Italy – La Befana
She is a mischievous fairy with a disgusting appearance of a witch. She flies a broomstick and gives gifts to children on the night of January 5-6 on Epiphany.
Spain – Los Reyes Magos
Children are waiting for their gifts until January 6. Gifts are presented by Los Reyes Magos and the Three Kings. In the evening before going to bed, we prepare three glasses of sherry for the kings and a carrot for their camels.
Russia – Ded Moroz
He is accompanied by Snow White – Snegurochka. On the New Year's Eve, when all good children are asleep, Ded Moroz and Snegurochka give them gifts.
Germany – Frau Berta
She has a slightly offputting appearance, huge feet and a huge nose. She stealthily sneaks into children's rooms and lets them sleep well. However, she is a nightmare for naughty children. Most often, gifts are placed on windowsills or stairs, or put in special socks or under the pillow.
Denmark – Julemanden
He is accompanied by elves and he travels in a sleigh drawn by reindeers. Children prepare milk and pudding for the elves. In the morning, the sight of the leftover crumbs makes them happy.
English-speaking countries – Santa Clause or Father Christmas
He gives gifts to children on the Christmas Eve. Before that, however, children write letters to Santa to tell him about their wishes and desires. Letters are thrown into the fireplace so that with the help of smoke they can reach the sky.
France – Dame Abonde
She is a good fairy who visits well-behaved children while they sleep and gives them gifts on New Year's Eve. She is accompanied by her friend – Pre Fouettard, who knows perfectly well how the child has behaved during the last year and what gift he or she deserves.
See our students' Christmas recipes!
Dumplings with poppy seeds by Wiktoria Baranek, student of the Vistula Group of Universities
Ingredients for the dough:
2 cups of flour
1 teaspoon of salt
about 3/4 cup of cool water
Ingredients for the stuffing:
100 g of blue poppy seeds
1 cup of cow's milk
1 tablespoon of butter 82%
1 tablespoon of honey
1 tablespoon of sugar
1 tablespoon of raisins
4 tablespoons of finely chopped walnuts
1 egg yolk
Preparation:
1. Stuffing: Pour boiling milk over the rinsed poppy seed and simmer for about 30 minutes. Drain, cool and grind twice in a mincer. In a saucepan, melt the butter, add the poppy seeds, honey, sugar, raisins and nuts. Cook for about 2-3 minutes, stirring constantly, then cool and add the yolk.
2. Dough: Knead a soft and elastic dough. Cover with a cloth and set aside for 15 minutes.
3. Roll out the dough thinly, cut out circles with a medium-sized glass, put the stuffing on the dough, press it with a spoon to fit as much stuffing as possible. Stick the edges of the dough together, press it down and make a frill.
4. Put the dumplings into boiling salted water and cook until they get tender. Serve hot with cream (sour or sweetened with powdered sugar, with liquid honey). Reheat in boiling water.
Christmas Pancakes (Racuchy) by Maciej Traczyk, student of the Vistula Group of Universities
Ingredients:
500g of wheat flour (3 cups)
60g of margarine (1/4 bar)
30g of yeast
4 teaspoons of powdered sugar (40 g)
a glass of milk (250g)
3 large egg yolks
2 and ½ tablespoons of spirit
1 teaspoon of rum flavor
4 tablespoons of lemon juice (use 2 large lemons)
Preparation:
1) Sift the flour.
2) Prepare the leaven: in a bowl, crush 30 grams of yeast with powdered sugar. When the yeast becomes liquid, add 2 heaped tablespoons of flour, mix it well with a spoon so that there are no lumps. Next, add 2 tablespoons of milk and carefully mix and set aside to grow in a warm place.
3) Melt the butter and heat the milk.
4) Mix 3 yolks with 3 teaspoons of powdered sugar.
5) Mix the grown leaven, mixed egg yolks, flour, warm milk, powdered sugar, add lemon juice and rum aroma.
6) Knead the dough by hand, slowly adding warm, melted butter. Knead the dough until it stops sticking to the bottom of the pan.
7) Add 2 and ½ tablespoons of spirit and knead for a while. Form a ball and leave the dough covered in a warm place to grow for 30 minutes.
8) Use the spoon dipped in hot oil to take the dough and put it on the hot oil (similar to laid noodles).
9) Fry in hot oil over low heat until they get golden brown (about 20 minutes). We should get about 30 large pieces.
10) After cooling, sprinkle with powdered sugar.
11) Pancakes are best when served just after frying.
I recommend it to everyone, the best Christmas Eve dish of all. I love it!
Would you like to know more about Christmas customs in different countries? You are welcome to watch the movie!
See what our students tell about their Christmas customs and traditions at home: https://www.youtube.com/watch?v=s2ZimJg2ezY