Vistula volleyball players were sensational at the final of the Polish Academic Volleyball Championships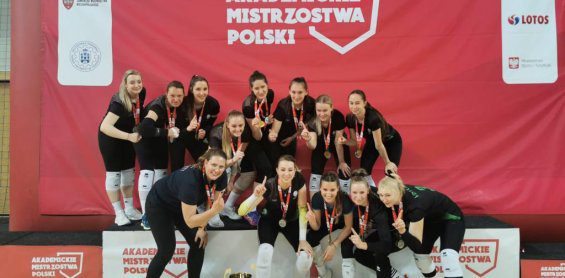 After an excellent performance and taking first place in the semi-finals of the Polish Academic Championships in Olsztyn, Vistula University's volleyball players continued their good streak of form in the final.
The sixteen best teams from Polish universities participated in the matches played in Poznań. Our volleyball players turned out to be the revelation of the tournament.
In the general classification, Vistula University's team won the Vice-Championship of Poland. In the classification of non-public universities, our team became the champions.
Monika Kawa was recognised as the 'player of the tournament', and Natalia Bielińska was the best quarterback – both are members of our team.
Our team:
1. Bielińska Natalia
2. Dąbrowska Natalia
3. Gliwa Julia
4. Kawa Monika
5. Kowal Agnieszka
6. Kowalczyk Kinga
7. Kołodziejczyk Dominika
8. Maziopa Anna
9. Oleszczuk Monika – captain
10. Rajkowska Ewa
11. Rozwadowska Martyna
12. Sikora Michalina
Coach: Jolanta Studzienna
Team leader: Maciej Szewczyk
CONGRATULATIONS!!!