Vistula University programmes awarded with CIMA accreditation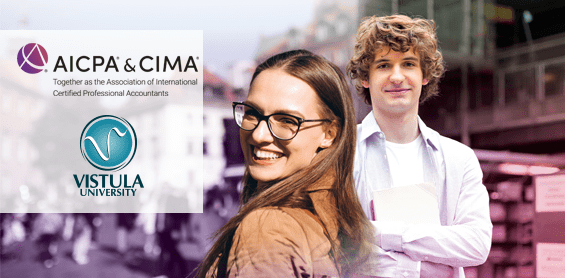 Vistula University has achieved yet another success. Our Bachelor's and Master's programmes in Finance and Accounting and Management – both in Polish and in English – are being accredited by CIMA (Chartered Institute of Management Accountants).
CIMA accreditation for the Vistula University programmes, confirms that our students develop competences, recognised all over the world, as the most sought-after and up-to-date, in the areas of ​​Finance and Management during the teaching process. It means both prestige and, also tangible benefits. Thanks to the accreditation, students will be able to take advantage of exemptions from CIMA's exams. They will also gain access to scholarships.
CIMA (Chartered Institute of Management Accountants) is a leading, and the largest global organisation of specialists in the field of Management Accounting. It has been operating for over a hundred years, and has members from 192 countries. It works closely with employers, and finances innovative research.
CIMA trains world-class financiers. Management accounting specialists design courses for global business. Their strategies ensure the success of enterprises.