Vistula students' adventure comes to a close in Dubai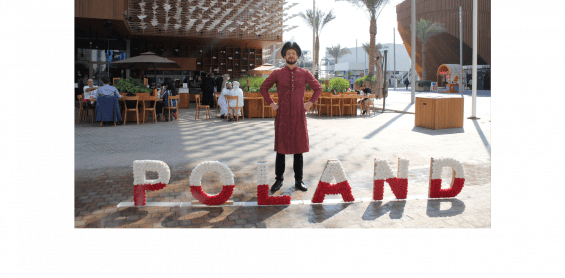 Students of Vistula University, who as part of their internship, served at the Polish Pavilion during the World Exhibition Expo 2020 in Dubai, have returned to Poland. Their participation in such a prestigious event was co-financed from European funds, under the Knowledge Education Development Operational. Programme from the following projects:
Vistula Finance and Business Academy: POWR.03.05.00-00-Z067 / 17 – Integrated Vistula of the Future;
The Vistula School of Hospitality: POWR.03.05.00-00-Z076 / 17 – Tourism Education of the Future – a comprehensive programme of improving the quality of education process management and the quality of teaching at the Vistula School of Hospitality.
The partner for Vistula Universities during EXPO 2020 in Dubai, was the Polish Investment and Trade Agency S.A.
42 students from Poland, Ukraine, Belarus, Kazakhstan, Russia, and Kyrgyzstan, took part in this unique internship project. Before that, they had gone through a multi-stage recruitment process.
The scope of their activities included, among others:
presentation of the exhibition;
managing traffic in the Pavilion;
giving information;
care of visitors in case of emergency;
support for regional programmes;
participation in accompanying events.
The interns gained valuable experience working in an international environment.
They gained knowledge about integration processes, mechanisms of the world economy's functioning, and about various aspects of international and intercultural communication.
They also gained experience in working with demanding customers. They got to know the basics, via workshops, of the work of a journalist, culture animator, and organiser of activities with children.
During Expo 2020, Vistula's students promoted, not only our country, but also the university and Polish science. We hope that this unique experience will pay off in their future professional lives, strengthen their market position, and give them courage.
We would like to thank everyone who contributed to the participation of our students in this spectacular event!