IMEX-MPI-MCI Future Leaders Forum 2020 – join the online event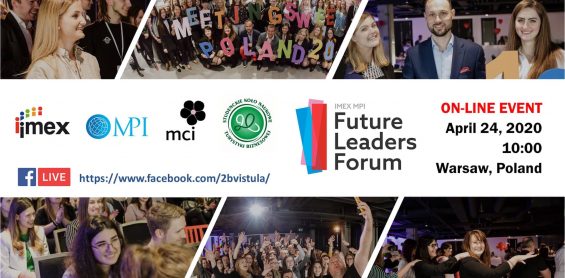 We can't meet in person. It is a pity, but thankfully the Internet works. So, we're moving to the Web!
The 15th edition of the IMEX-MPI-MCI Future Leaders Forum will take place in the online event formula on April 24, 2020. We start at 10:00 am. If you want to listen to outstanding experts from the meeting industry and exchange views with them, join us.
IMEX-MPI-MCI Future Leaders Forum is an international conference for students connected with the meetings industry. The Business Tourism Club, "2B" at the Vistula School of Hospitality is organizing this event. The Forum – also as an online event – provides a unique opportunity to "meet" with many professional experts from around the world.
The keynote of the event is Event experience design: emotions, memories & transformations. Prof. Barbara Neuhofer from the University of Applied Sciences in Salzburg will give a lecture. There are also in agenda interesting discussions. We will talk about dreamwork, the power of social media and about our future.
Participation in the IMEX-MPI-MCI Future Leaders Forum allows to deepen knowledge and develop competences. It is also a great opportunity to make new connections, develop careers in the meetings industry and also take part in the IMEXUniversity Challenge. A participation in the largest European trade fair industry meeting IMEX in Frankfurt is the award for the winners of each of the semi-finals.
Join us!
On April 24, 2020, at 10:00 am
Registration link:
https://app.evenea.pl/event/flf2020/