Co-operation of Vistula School of Hospitality with the Jerzy Siwiński Secondary School in Legionowo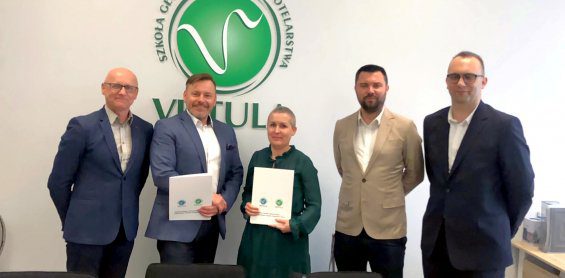 The Vistula School of Hospitality has signed a co-operation agreement with the Jerzy Siwiński Secondary School in Legionowo. The institution, which has a 56-year tradition of vocational education, belongs to industry schools educating future tourist staff in the area of the Warsaw Metropolis.
The agreement is part of a large project implemented by the Institute of Tourism, the most important goal of which, is to educate young people and students with high professional skills, in accordance with the needs of the labour market, and to continue scientific development at a higher level.
The following joint activities under the patronage of the Institute of Tourism are planned:
participation of the University's lecturers in classes for students of the school;
providing substantive support in the implementation of teaching programmes and pedagogical innovations;
organising conferences/ training sessions for teachers of vocational subjects, in order to raise qualifications;
helping teachers and sharing scientific materials;
co-operation in the implementation of scientific research, with the participation of students and teachers;
supporting efforts to organise specialist visits to hotels, travel agencies, etc.
The co-operation agreement was signed by: Rafał Szmytke, Pro-Rector of the Vistula School of Hospitality, and Katarzyna Jóźwik-Kaliszewska, Director of the Jerzy Siwiński Secondary School in Legionowo. This event was also attended by: the Vice-Dean, Piotr Kociszewski, PhD, Piotr Tatara, Director of the Institute of Tourism, and Tomasz Święcicki, a representative of the teaching staff of the school in Legionowo.