AICPA & CIMA and Vistula University launch a joint program to empower students for career success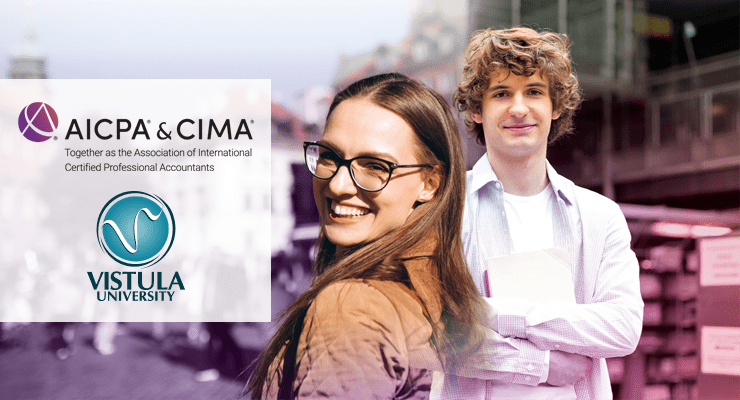 AICPA & CIMA, together as the Association of International Certified Professional Accountants, teamed up with Vistula University to launch the much-anticipated AICPA & CIMA University Program to its students. Through this program, Vistula University students can kickstart their careers by developing their accounting, finance and business skills and earning prestigious professional qualifications alongside their university studies. 
AICPA & CIMA University Program is open to all students currently enrolled in the bachelor's or master's degree programs in finance and accounting, or management with a specialisation in managerial accounting, taught both in Polish and in English, at Vistula University. Students who complete all required courses will be exempt from specific CIMA's CGMA® exams, and after successfully passing CIMA's CGMA® Case Study exam, will be able to obtain either the Certificate in Business Accounting or CIMA's Diploma in Management Accounting, which are official routes to completing CIMA's CGMA Professional Qualification and becoming a Chartered Global Management Accountant (CGMA®).
– AICPA & CIMA's accreditation of Vistula University's as part of its University Program is a huge success for our institution – Tom Hashimoto, PhD, LL.M., DPhil (Oxon), FHEA, AICPA & CIMA Coordinator at Vistula University, said – It confirms that our students gain skills and competencies in accounting, finance, and business, which are recognised and sought after globally. This partnership will deliver tangible benefits for our students and enable them to study to become Chartered Global Management Accountants. They are embarking on a journey to become world-class accounting and finance professionals, who can guide their organisation towards sustainable success even in the most uncertain environment.
Jakub Bejnarowicz, Regional Director for Europe at AICPA & CIMA, stressed, that CGMA qualifications are recognised and trusted by many of the biggest and best-known employers around the world. –
With the launch of our AICPA & CIMA University Program with Vistula University, we are offering their students the chance to truly make the most of their degree and accelerate their way to earning the CGMA designation. This is a fantastic opportunity for them to develop skills and competencies outside of higher education, which will enhance their employability and give them a competitive edge on the job market – director Bejnarowicz said.