Vistula Universities are at the forefront of the 'Perspektywy' 2021 Universities Rankings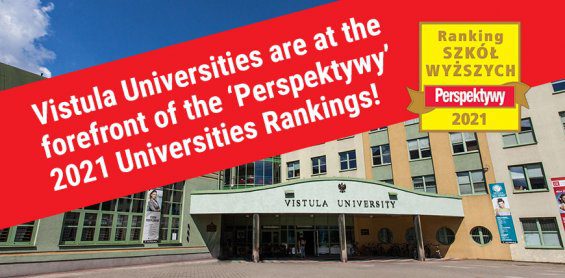 Vistula Universities consistently climb higher in the prestigious 'Perspektywy' Universities Rankings. In this year's list of the best non-public universities, Vistula University took fourth place, and the Vistula School of Hospitality – entered the top ten, and is now on the 8th place. In more than one category, we have surpassed public universities.
It was another extremely difficult year for the Polish education sector. However, Vistula's Universities are coming out unscathed. In the prestigious Perspektywy 2021 Universities Rankings, Vistula University defended its leading position in the internationalisation of education, and rose from 5th to 4th place among non-public universities. A special reason for satisfaction is also the 4th place of Vistula University among all Polish universities in the Graduate in the 2021 labor market category. We are located right behind Warsaw School of Economics, Medical University of Warsaw and Warsaw University of Technology.
The Vistula School of Hospitality also achieved huge success, entering the top ten, having climbed from 13th to 8th place. The school is developing, launching new courses, and specialisations.
The success of Vistula Universities in the Perspektywy University Ranking 2021 is a token of appreciation to our efforts to prepare young people in the best possible way for work and life. We emphasise the practical dimensions of education. We teach students what they really need, and implement programmes that support learning and personal development. Our on-line studies have proven themselves to be first-class, especially today, in the era of a pandemic. They enable safe and flexible learning from anywhere in the world.
Vistula educates young people from one hundred countries. They appreciate the university's openness to the world, multi-culturalism of the student community, high quality of study programmes in Polish and English, and the prestigious accreditations they hold. Vistula University, is one of the few universities in Poland, which has the full range of ACCA accreditation, and this opens up a fast path for students to an international career in the field of accounting and finance. Management can boast the PMI Global Accreditation Centre for Project Management Education Programmes (GAC) accreditation, which confirms the university's commitment to continuous improvement of the quality of the curriculum in Project Management. The Vistula School of Hospitality has THE-ICE accreditation, which is another landmark sign of the highest quality of education and prestige.
Perspektywy 2021 Universities Rankings are an important guide for people, who are just deciding which studies to choose. They are one of the most extensive and transparent educational lists in the world. Its methodology is being developed by the Chapter, chaired by Prof. Michał Kleiber, former President of the Polish Academy of Sciences.
More: https://2021.ranking.perspektywy.pl/ranking/ranking-uczelni-niepublicznych
Gallery