Swiss university degree – a guarantee of the highest quality of education and prestige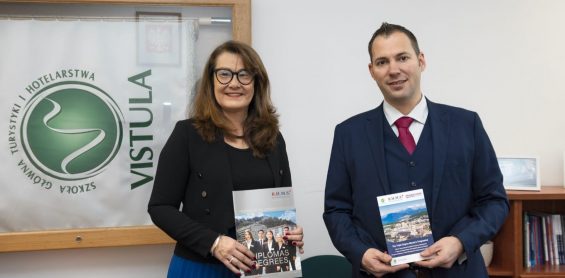 Relations between Vistula School of Hospitality and B.H.M.S. in Lucerne are getting closer. A visit to our Warsaw campus of a representative of this prestigious Swiss university, Martin Wyler, head of the B.H.M.S. Regional Office in Eastern Europe, confirmed this.
Switzerland is the place of birth of the hospitality industry – explained Martin Wyler during a meeting with Vistula students. He talked about the university he represents, its offer and the benefits of studying in Switzerland. – For many years young people have come to us from all over the world to study tourism, hospitality management and culinary art – said our guest. – Switzerland is a recognized brand in the field of education in this area. A Swiss diploma is like a Mercedes – it looks better. If we add the professional references gained during internships in a Swiss company, your CV will be excellent – emphasized Martin Wyler.
As part of cooperation with B.H.M.S, Vistula students can go to Switzerland and study for a year in B.H.M.S., get a double or triple degree (Vistula, BHMS and Robert Gordon University – B.H.M.S. issues a double degree from Gordon University) and professional references. – B.H.M.S. is a perfect partner – says Jolanta Żyśko, PhD, rector of Vistula of Hospitality. –
To develop international programs and cooperate with foreign partners is our goal. B.H.M.S. is one of them – she adds. – Today we can not think only locally. Our students must have global opportunities – emphasizes Professor Żyśko.
B.H.M.S. is a member of the Bénédict Switzerland group of schools founded in 1928, one of the largest private educational organizations in Switzerland, which educates over 15,000 students each year. The university's mission is to provide higher education to those who want to succeed. The school provides education at the highest level in the field of culinary art and management in the tourism and hospitality industry. In cooperation with Robert Gordon, the University of Aberdeen in the UK offers a Bachelor of Arts degree, an MBA / PGD diploma and an MBA title.a