Skierniewicki Salon Edukacyjny "In Future" 2019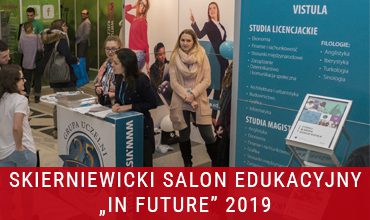 What studies should I choose? This is one of the most important decisions you will make during your lifetime. There is a wide range of educational offers and it is worth getting to know them.
Skierniewicki Salon Edukacyjny "In Future" 2019 is an opportunity which will address school students and graduates in Skierniewice, as well as young people from nearby towns. The purpose of the event is to provide them with access to information about the possibilities of further education.
The universities from all over the country will present their offers. We will be there, too. The Vistula Group of Universities will be represented by Careers Office experts, students involved in the mentoring programme, and student council representatives.
We will present Bachelor's degree and Master's degree programmes, workshop programmes, and additional activities. Young people will be able to find out what the advantages of the Vistula Group of Universities are, as is shown by these examples:
outstanding lecturers;
practical dimensions of education;
co-operation with business;
on-line studies;
international environment;
all programmes conducted in English;
support for students and graduates in the labour market.
You're welcome!
March the 11th, 2019, from 10:00 am-2:00 pm,
OSiR Hall, Pomologiczna 8, Skierniewice.