Online studies – how to take a final exam online?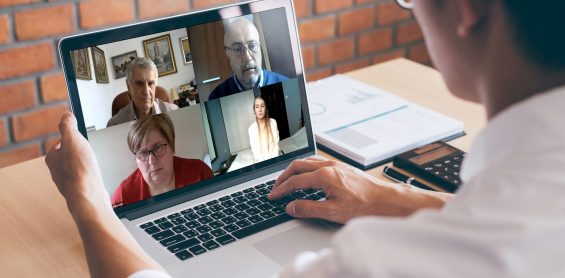 Lectures, exercises and webinars – you already know how online studies work. But how to take a final exam online? Vistula Universities paved the way, precisely defined the procedures for remote exams and successfully implemented the system. Over 100 students have already taken the final exam in this mode. In the coming weeks, another 1,600 will do that.
Online last exam – step by step
A thesis submission process is practically the same. There are no differences compared to pre-pandemic time, but beware – consultations with promoters take place online, thesis and necessary documents are transferred without contact.
A final exam also takes place remotely. So, there is a "virtual waiting room" and a "virtual exam room". But, a commission is real and consists of three people:
chairman;
thesis supervisor;
a reviewer of the diploma thesis.
15 minutes before an exam, commission members "meet" in a "virtual, secure room" and discuss the student's thesis. Then, the author of a thesis "passes from the waiting room to the exam room", introduces himself and presents his ID. The commission members ask him questions, which they drew on his behalf. Knowledge acquired during studies and the thesis is also discussed. After this stage, a student "returns to the virtual waiting room" and the commission meets, its chairman completes a protocol. After that, a student goes back to the "exam room", the result is announced. The entire recording is archived.
Online exam – how to check if a student does not use outside sources?
During the standard exam, a student is on his own. Only his knowledge, ability to control emotions and time management count. When the exam is online, he may be tempted to seek help. Therefore, just before the exam, members of a commission remotely view the room in which the student is located. – Technically, it is impossible to check if a student uses someone's help – says Justyna Berniak-Woźny, PhD, Deputy Rector for Quality of Education and Internationalization of the Vistula University. – However, lecturers with extensive experience cannot be fooled – she adds. – It's nice, sometimes cheerful. Professionally. The students thank us.
Online studies at Vistula – highest level professionalism
Online final exam, as well as the entire teaching process, takes place at Vistula in two languages: Polish and English, because the university students come from over 100 countries. A few days before the exam, all interested persons receive information about the date of the diploma exam from the dean's office. At the same time, the IT Department provides them with detailed instructions on how to participate in the meeting.
So far, over 100 people have passed final exams in this mode, and soon another 1,600 will do it. – In this matter, we were "pioneers", out of necessity – emphasizes Maria Gasińska, PhD, Deputy Rector for Student Affairs of Vistula.– There were many 'spring' graduates, which we could not leave uncertainty, because many of them wanted to return home for example, their visas were about to expire.
Online studies – the best universities in the world educates in this mode
Vistula Universities, i.e. the Vistula University and Vistula School of Hospitality, are leading institution in online education in Poland. Six years ago, they followed the best universities in the world. Since that time, they successfully provide selected programmes online. Those are:
Economics,
Finance and Accounting,
Management.
Vistula is also working on further online programmes because the interest in such studies is constantly growing. Entrepreneurs who work intensively but want to improve their qualifications, parents raising small children and people who lead a very active lifestyle – just such people are mainly looking for online studies.
More about studying online: https://www.vistula.edu.pl/kierunki-studiow/studia-online