Helpdesk for Students from Ukraine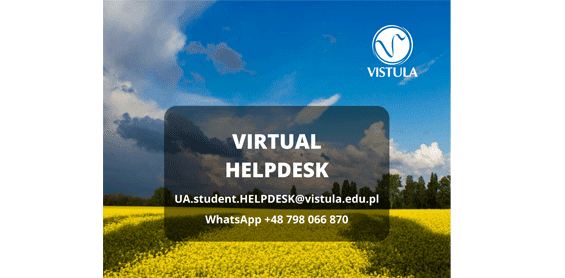 Vistula Universities have launched a virtual HELPDESK for Students from Ukraine. Students of Ukrainian origin who need special support are asked to report their needs and problems (which they cannot solve under the standard procedures used at the university) to the address:
UA.student.HELPDESK@vistula.edu.pl
📞 You can also write to us directly on WhatsApp on the special number +48 798 066 870.
If you are coming from Ukraine:
The Polish government has established an official website, phone line, and e-mail with information and resources for you:
Website: https://www.gov.pl/web/udsc/ukraina-en
Phone: +48 47 721 75 75
Email: ukraina@udsc.gov.pl
Additional detailed help and information can be found at the Halina Nieć Legal Aid Center: https://www.pomocprawna.org/wazna-informacja-dla-obywateli-ukrainy%21
You can also contact the United Nations UNHCR for any questions at:
Phone: +48 22 628 69 30
E-mail: polwa@unhcr.org
Where else can I go for information and help?
On the website ua.gov.pl (information in PL, UA, ENG and ROS)
Helpline of the Office for Foreigners: +48 47 721 75 75
Legal Aid Center Halina Nieć (phone and WhatsApp): +48 693 390 502
FREE PSYCHOLOGICAL HELP FOR PEOPLE FROM UKRAINE
POLISH LANGUAGE COURSE FOR REFUGEES FROM UKRAINE FOR FREE